We're excited to announce that the Fig App is available to download for free on both iOS and Android in the US. 
Our team started Fig after feeling overwhelmed by our various dietary restrictions (food allergies, IBS, histamine issues, intolerances, and more).
Fig (which stands for "Food is Good") is meant to answer the question, "What can I actually eat at the grocery store?"
So, what can you do with the Fig app?
It's hard finding food after getting a list of 50+ ingredients you need to avoid. It's even harder to enjoy food. Nobody should have to spend 2 hours reading ingredient labels at the grocery store.
Fig helps you scan, shop, and search the world of food with ease, regardless of your dietary needs.
Let's take a look at what you can do with the app!
1. Create your Fig for ALL of your dietary needs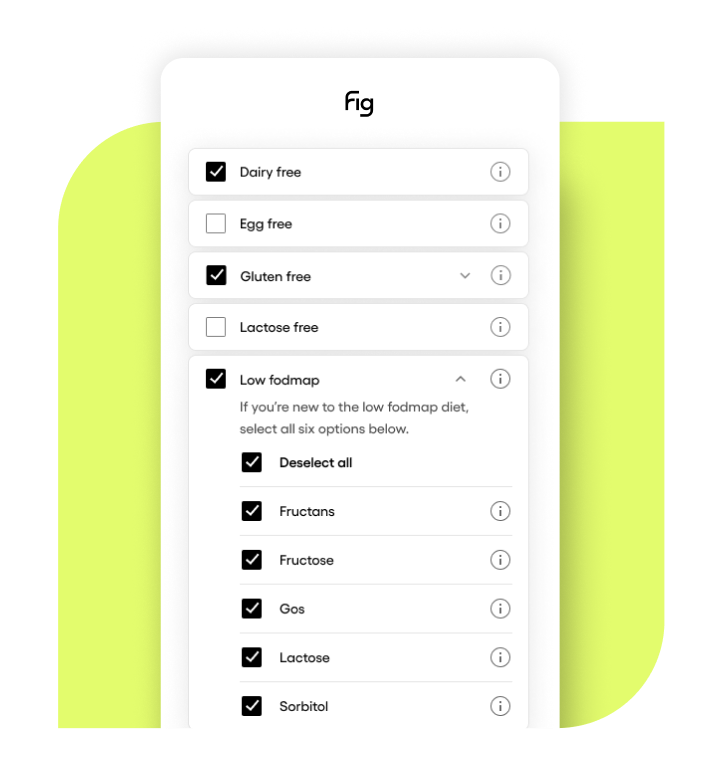 Your Fig is like your own personal food fingerprint. It's a digital version of how YOU eat – any diets you follow and any food allergies, intolerances or preferences you have.
Walnut allergy? Low FODMAP? Citric acid intolerance? Fig has you covered to the ingredient level with the help of our expert dietitians. 
Your needs may change over time, but so can your Fig.
2. See what you CAN eat at the grocery store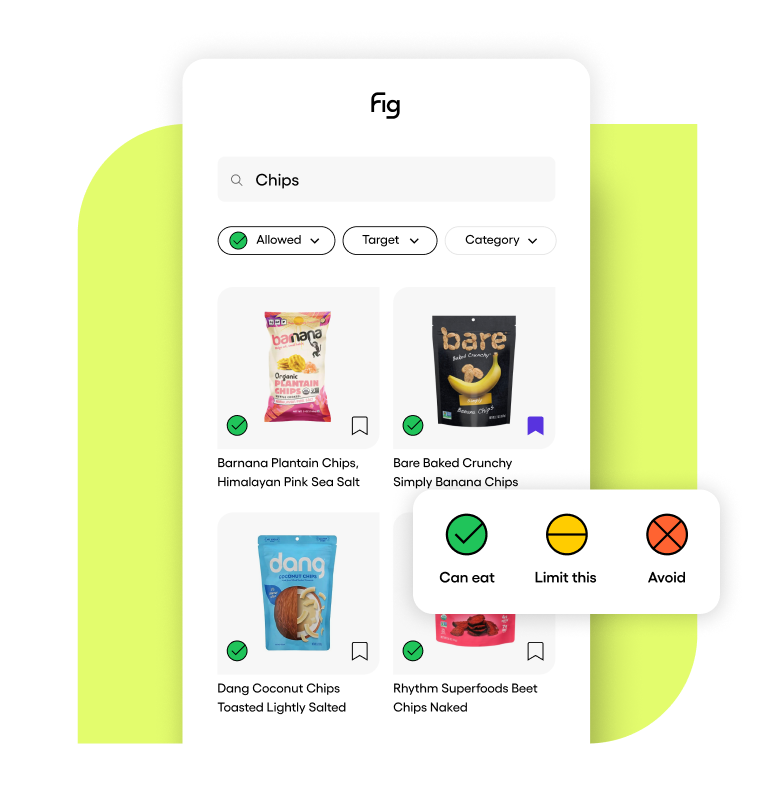 When you go to the store, it may feel like every product has your triggers. You just want to know what you can eat. And that's exactly what you can do now!
Just select a store and instantly see everything that likely matches your Fig there.
Fig members have already discovered countless dressings, salsas, protein powders, and more. Now it's your turn to find some new, tasty foods that you CAN eat!
Create my Fig & Start Discovering
3. Instantly check if a product works for you
With the barcode scanner, you're able to know if a product matches your Fig or not in under a second. Just scan the barcode and we'll compare the ingredients and allergen statement to your Fig.
No more reading through a printed list of your restrictions or googling every ingredient!
How to Get Started
To start with Fig, you just need to follow 3 simple steps:
1. Download the Fig app for free (available on iOS and Android in the US)
2. Create your Fig (or sign in if you already have an account)
3. Start discovering new food you CAN eat!
It's as easy as gluten-free pie! Get Started with Fig
Fig's Future
We're always working on adding more diets, more stores, and more features. We're also obsessed with accuracy – we know how important it is to get it right.
We're excited to have you join us in our mission as we work together to make life with dietary restrictions feel simpler. Please continue to let us know how Fig can be more useful for you! You can email me anytime at tyler@foodisgood.com.
– Tyler

Want to meet others in similar situations?
Dietary restrictions can feel overwhelming and lonely. But there are a surprising number of people going through the same thing.
So we're connecting you with others in similar situations through our Facebook Community! You can meet new people, find tasty recipes, get answers to your questions, and connect with the Fig team.