If you're following a low FODMAP diet, I'm sure you are familiar with the portion size restrictions around some of your favorite foods. You may find that your meals are a bit smaller than they were before, leaving you feeling hungry in between meals. How do we feed that hunger while still adhering to the low FODMAP diet? Let's take a look at how to enjoy low FODMAP snacks while on a FODMAP diet.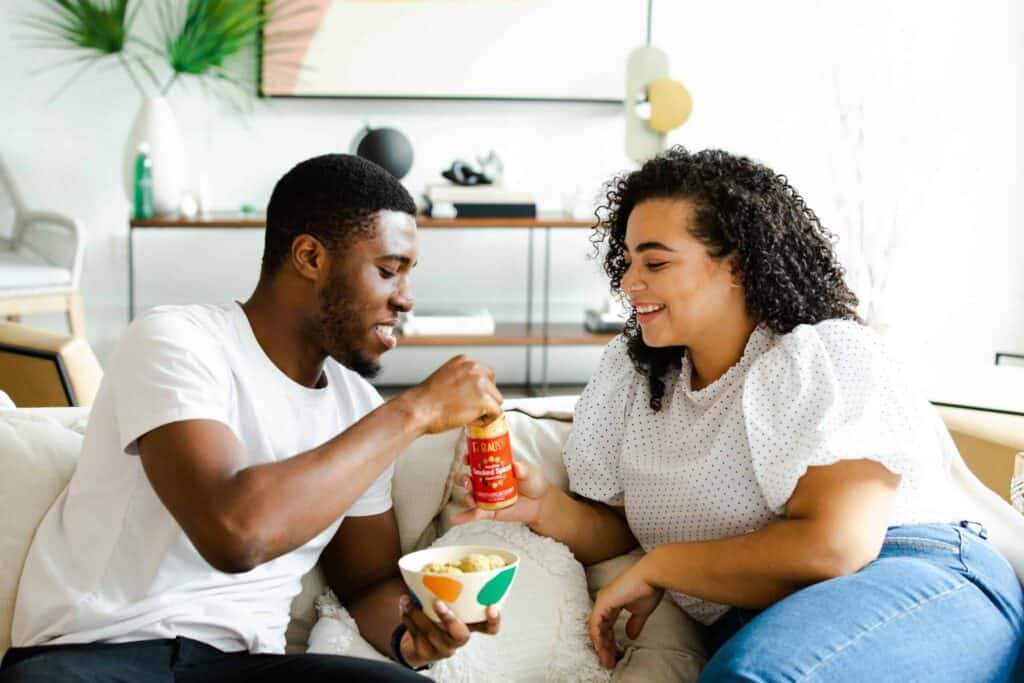 Photo by The Creative Exchange on Unsplash
Low FODMAP Snacks at Home
Snacking at home may be a bit easier than snacking on-the-go. When you are at home, you have access to both perishable and non-perishable food items. Oftentimes, when we hear the word 'snack,' we think of processed foods or "junk foods". However, let's reframe that to think of a snack as a "mini meal." You can include all of the same components that you would normally include in a meal, just in smaller portion sizes. Think: fruits, vegetables, whole grains, lean proteins, etc.
Some refrigerated low fodmap snack options include:
1 lactose free yogurt with ¼ cup blueberries and 1 tablespoon chia seeds
1 cup carrots with low FODMAP hummus
1 string cheese with a handful of grapes (limit to 6)
Corn chips with low FODMAP salsa
Tomato salad (limit to 1-2 roma tomatoes) with basil, mozzarella, and garlic-infused olive oil
5 strawberries with 2 hard boiled eggs
1 cup lactose free milk (or almond milk) with Stellar Labs protein powder
Arugula salad with tomatoes, quinoa, lemon juice, and olive oil
Low FODMAP dinner leftovers
Low FODMAP Snacks for On-the-Go
Snacking on-the-go may be a bit more challenging since we have to think about preserving the freshness of any cold snacks. However, for most people, it is easier to take that out of the equation and choose snacks that are shelf-stable.
Some shelf stable low FODMAP snack options include:
Canned tuna with Good Thin Gluten Free Crackers
Rice cake and 1 tablespoon almond butter
1 orange and ¼ cup walnuts
1 tablespoon dried cranberries with 10 Brazil nuts
Air-popped popcorn
1 unripe medium banana with 2 tablespoons peanut butter
Low FODMAP GoMaco Bars (Please note that not all GoMacro snack bars are low FODMAP. Click here for a list of low FODMAP GoMacro products)
Find more Low FODMAP snacks on the Fig app!
Preventing Stacking While Low FODMAP Snacking
You may be familiar with the term "FODMAP stacking." This is when the same FODMAP group is eaten repeatedly to the point where it may 'add up' in your GI tract and become high FODMAP. If your GI symptoms have resolved while adhering to a low FODMAP diet, then FODMAP stacking isn't something that you likely need to be concerned about. However, if you are still noticing symptoms, then you may want to be more mindful of your meal and snack timing as well as the types of foods you are consuming. Read more about FODMAP stacking.
Monash recommends spacing your meals and snacks at least 3-4 hours apart. If you find that you are hungry within this 3-4 hour window, try snacking on foods that are FODMAP free or have a very large safe serving size. These can be eaten freely and according to your appetite. For a more in-depth guide, use the Monash Low FODMAP app and search for foods with large green serving sizes. Don't forget to read the fine print at the bottom of the Monash app for additional details on portion size!
List of FODMAP free foods:
Protein: chicken, fish, eggs, egg whites, turkey, beef, pork
Rice
Carrots
Oranges
Arugula
Cucumber
Lactose free milk
Low FODMAP Snacks: Summary
Snacking while on the low FODMAP diet can seem overwhelming. Planning your meals and low FODMAP snacks ahead of time can help resolve some of this feeling and make you feel a bit more prepared. Try to space your meals and snacks 3-4 hours apart, always have low FODMAP foods on hand, and get as much variety in your diet as possible. Hopefully these snack options will get your creative juices flowing so you can come up with some of your own favorite snack ideas, too. Happy snacking!
Find more Low FODMAP snacks on the Fig app! Simply tell Fig which grocery stores you shop at, and Fig will show you every single low FODMAP product at those stores.