Ah bread! One of the staples of our diets enjoyed throughout the world. But when you're on a low FODMAP diet and staring out at a sea of hundreds of breads on the grocery shelf, how do you know which ones are low FODMAP?
Look for Certified Low FODMAP breads first
In an ideal world, you'd choose a certified low FODMAP bread, so you know for sure it's been lab tested as Low FODMAP. Unfortunately, not all certified breads are available in all locations. Both Monash University and FODMAP Friendly have their own FODMAP certification programs and you can find a list of certified foods in their apps. I've included the lists of certified breads at the end of this article.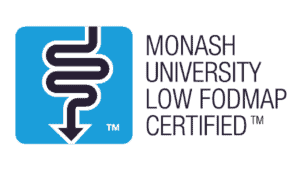 Low FODMAP Bread Basics
If you want to learn how to recognize whether or not a bread is high or low FODMAP, this section will teach you the ins and outs of reading labels and identifying ingredients. In addition, sourdough breads deserve their own special discussion, so feel free to skip to that section if you like.
The Low FODMAP Diet is Not a Gluten Free Diet
This is a popular misconception of the low FODMAP diet, so let me explain. Gluten is a protein found in wheat, barley, and rye, whereas fructans (a type of FODMAP) are carbohydrates, and both tend to co-exist in these foods. For this reason, when you take wheat out of your diet, you're taking out both the FODMAPs and the gluten, so it can be difficult to know which you were reacting to.
Portion size matters when it comes to a low FODMAP diet. The diet does allow for small amounts of wheat, such as ¼ cup of wheat pretzels, a slice of white wheat bread, or two tablespoons of soy sauce. Gluten free grains tend to be lower in FODMAPs than wheat products, so larger portion sizes typically can be consumed safely.
Not all Gluten Free Breads are Low FODMAP!
The key to understanding whether a bread is high or low in FODMAPs is to learn how to read the label. Gluten free foods can have high FODMAP ingredients added to them, so those should be avoided on a low FODMAP elimination diet.
An important rule of thumb is that ingredients are listed on labels in order of how much they occur in the product. Specifically, the ingredients are listed in descending order by the weight of the quantity that the manufacturer used. A product will contain more of the ingredients that come earlier in the list and less of the ingredients that come later in the list. For this reason, a bread may be still be considered low in FODMAPs (at a certain portion size) even if some of the ingredients are high in FODMAPs, so long as the high FODMAP ingredients occur near the end of the ingredients list (such as honey or agave).
Additionally, as I mentioned above, portion sizes are important, so check them on the Monash app and be sure to stick with the recommended serving size! For example, if the allowed portion size of gluten free white bread is two slices, but you eat three at one time, you may experience symptoms from excess fructans.
Below is a list of high and low FODMAP ingredients commonly found in breads to help you determine whether a bread may be low or high in FODMAPs. Please note, this list is by no means exhaustive, so please check your Monash or FODMAP Friendly app for other ingredients. The Fig Phone App will also flag these ingredients when shopping for groceries. Simply scan a product's barcode, and Fig will indicate if the product is likely low or high FODMAP.
Agave
Apple juice and concentrate
Amaranth flour
Barley flour
Barley malt (untested, likely ok only if at end of ingredient list)
Chicory root
Coconut flour
Coconut sugar
Einkorn flour
Emmer flour
Freekeh
Fruit sugar
Fructooligosaccharides (FOS)
High fructose corn syrup
Honey
Inulin
Kamut flour
Lupin flour
Milk solids or dry milk solids
Molasses
Pear juice and concentrate
Prune juice and concentrate
Rye Flour
Spelt Flour; Organic, wholemeal, and white
Soy Flour
Wheat Flour
Almond meal (¼ cup only)
Arrowroot flour
Brown rice syrup
Corn flour (cornstarch)
Cane sugar
Cane syrup
Corn syrup
Green banana flour
Guar gum
Locust bean gum
Maize flour
Maize starch
Millet flour
Potato starch
Psyllium seed husks (untested but likely low FODMAP in small quantities)
Quinoa flour
Rice flour
Spelt flour, organic, sieved
Sorghum flour
Tapioca starch
Tapioca syrup
Teff flour
Xanthan gum
For a full list of low and high FODMAP ingredients, download the Fig app.
Analyzing Example Bread Labels for FODMAPs
As I mentioned, gluten free breads can contain any number of high FODMAP ingredients. Check out this example below of gluten free Rudi's Multigrain Sandwich Bread. The molasses is rather high up in the ingredient list which is a red flag that this bread may be high in FODMAPs, and amaranth flour is high-FODMAP in any portion size. So, it's best to avoid this one on a low FODMAP elimination diet.
On the other hand, Canyon Bakehouse Gluten Free Country White Bread is likely low FODMAP and is generally well tolerated by people on a low FODMAP diet. If you look at this label below, you'll see that all of the ingredients appear to be low FODMAP.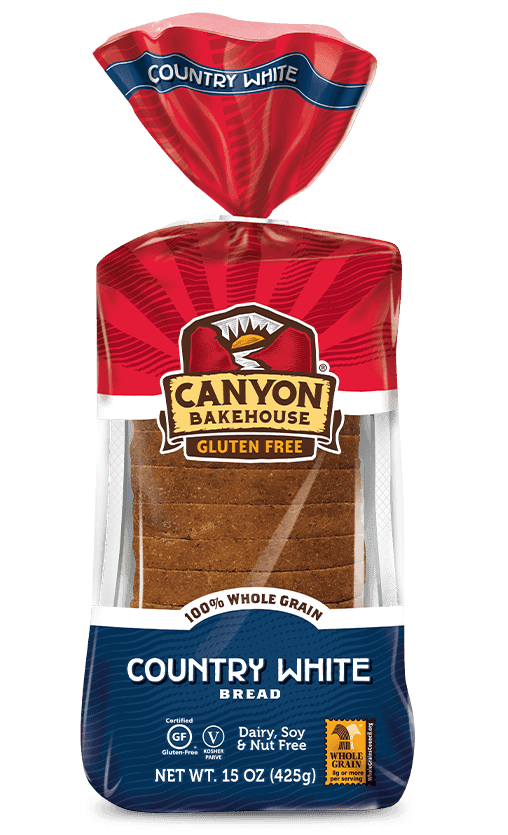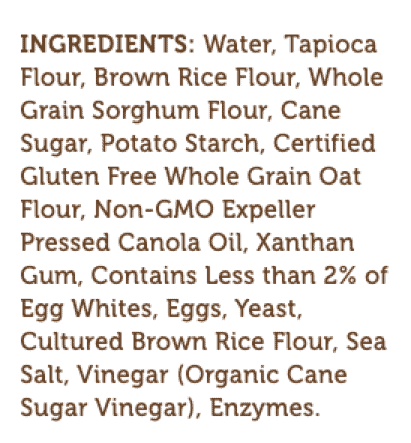 Based on this label below, Franz Gluten Free Mountain White Bread also appears to be low FODMAP. It's a personal favorite of mine, because its texture is more like regular wheat bread making it a nice choice for sandwiches and toast.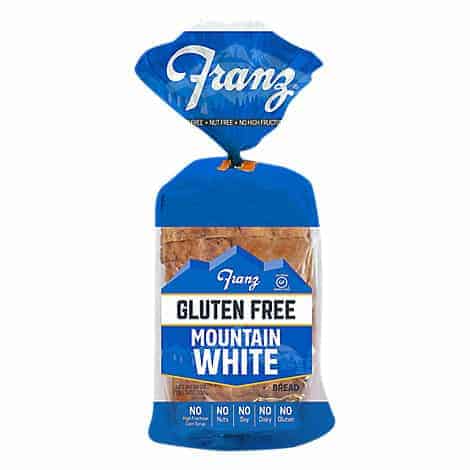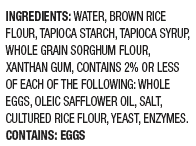 Likely Low FODMAP Breads
These are some examples of breads that contain low FODMAP ingredients and are likely suitable for a low FODMAP elimination diet as of this writing. Please note manufacturers can change ingredients without warning so always check labels. Try searching on the Fig App for Low FODMAP sourdough bread.
Canyon Bakehouse Country White Bread
Trader Joe's White Gluten Free Sandwich Bread (not available online)
Franz Gluten Free Mountain White Bread
Udi's Gluten Free White Sandwich Bread
Sourdough Breads and FODMAPs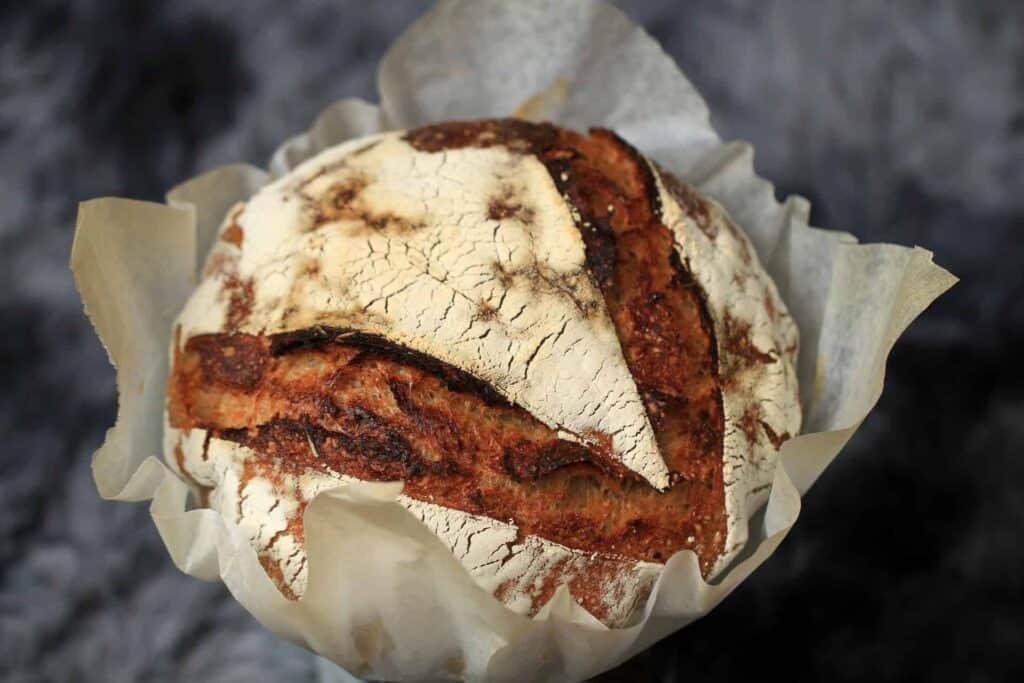 Though gluten free breads have evolved greatly since the early days when gluten free foods tasted like cardboard, some people may not like the taste or texture of gluten free breads. This is where sourdough bread saves the day!
Why is Sourdough Bread Low FODMAP?
The reason some sourdough bread is low in FODMAPs is because the wild yeast and bacteria produced in the sourdough fermentation process actually consumes much of the FODMAPs, which reduces them to a level that's low enough to qualify them as low FODMAP. Not all sourdoughs are considered low FODMAP though, so read on to learn some tips for selecting the safest options!
Tips for Finding a Low FODMAP Sourdough Bread
Keep in mind that we can never be positive if something is low FODMAP unless it is certified. It's best to stick with these tips for non-certified products, and always try new food products slowly and test your own tolerance.
An important key here is to look for a sourdough that is naturally, slow leavened for at least 1-2 days. It's the leavening process that consumes enough of the FODMAPs to make the bread low in FODMAPs. Sometimes, but not always, the addition of yeast can mean that it was not slow leavened because yeast can be added to speed up the process. Often, bread manufacturers like to brag about slow leavening so it can be found proudly displayed on the label. But if it's not there, you may find out by looking on their website or by calling the company.
When looking for a true sourdough bread, look for one that has a small number of ingredients in it. Some will list "sourdough starter" as an ingredient. Typically there is only flour, water, and salt in a true sourdough bread. Please note that flour can be written on the label as something like this: "Unbleached Enriched Flour (Wheat Flour, Malted Barley Flour, Niacin, Reduced Iron, Thiamine Mononitrate, Riboflavin, Folic Acid)".
Avoid any sourdough bread with high FODMAP sweeteners, such as agave, honey, or high fructose corn syrup. Typically you won't find sweeteners in sourdough.
Watch out for "sourfaux" bread, which is fake sourdough that may just have sour flavoring added to it, often from vinegar.
Stores like Whole Foods, Traders Joes, PCC, and local bakeries tend to be the best sources for finding true sourdough bread. If you go to a local bakery, they will be able to tell you if their sourdough is slow leavened.
Please note that since it's made with wheat, sourdough bread is not gluten free, so avoid sourdough if you have celiac disease. Because sourdough tends to be lower in gluten, sometimes those with Non-Celiac Gluten Sensitivity may be able to tolerate it, but this needs to be assessed individually.
How to Read a Sourdough Label for FODMAPs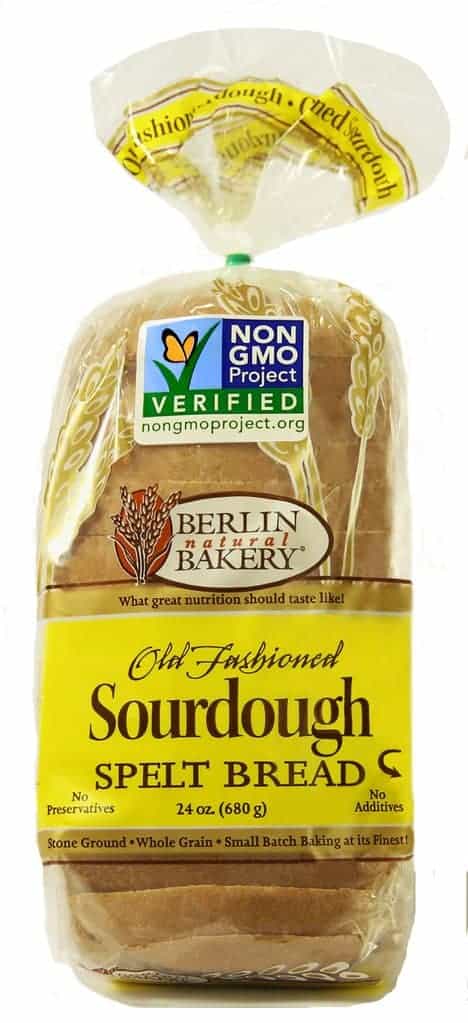 Here is an ingredient list from Berlin Natural Bakery's website for their Old Fashioned Sourdough Spelt Bread:
Whole grain spelt flour, water, sea salt.
That's a nice, simple set of ingredients and per Berlin Bakery's website, their sourdough starter is fermented for at least 24 hours. As per the Monash app, sourdough spelt bread is low FODMAP, so this would be a great choice.
Probably Not True Sourdough
Using the example of the Pepperidge Farms FarmHouse Sourdough Bread below, the length of the ingredient list below leaves me suspicious from the start. It also contains yeast, which tells me it's likely not true sourdough. The high FODMAP rye flour is problematic. This bread should be avoided on a low FODMAP elimination diet.

Try Making Sourdough Bread Yourself!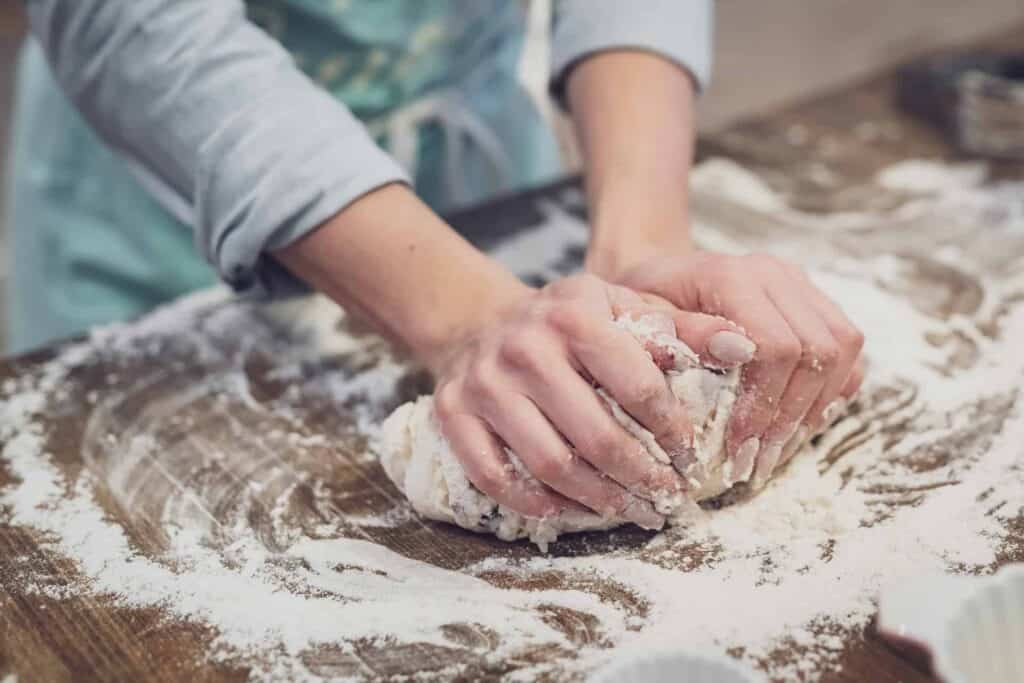 If you're someone who enjoys baking, you could always try your hand at making your own sourdough bread. You can also try low FODMAP certified wheat flour Lo-FO Pantry bread flour to make your own low FODMAP wheat bread!
Use Fig to Find Low FODMAP Bread
The Fig App is a free and helpful phone app that makes grocery shopping for low FODMAP breads and other foods a snap! The app lets you search for Low FODMAP products at your favorite grocery stores.
Takeaways
When possible, look for certified low FODMAP breads using the Monash and FODMAP Friendly Apps (find the list of certified breads below).
The low FODMAP diet isn't strictly a gluten free diet, but portions of wheat need to be limited. Check the Monash and FODMAP Friendly apps for portions and latest updates.
Look for slow leavened sourdough breads at local bakeries and natural markets.
Use the Fig App to simplify your low FODMAP shopping.
United States Certified Low FODMAP Breads
La Boulangerie alternative Inéwa
International Certified Low FODMAP Breads
Alpine Breads
Sour Rye Sourdough
Hemp Rising
Tuscany Sourdough
Spelt and Barley Sourdough
Spelt and Sprouted Grains
Spelt Hot X Buns
Baker's Delight
LowFOD Cheesymite Scroll
LowFOD Wholegrain Lunch Box Roll
Wholegrain LowFOD Loaf
Wholegrain LowFOD Bread Roll
Wholegrain LowFOD Block Loaf
Brumby's Bakery
Quinoa and Linseed Low FODMAP Loaf
Quinoa and Linseed Low FODMAP Roll
COBS
LowFOD Bun
LowFOD Dinner Roll
LowFOD Loaf
LowFOD Mini Loaf
La Boulangerie alternative Inéwa
100% Spelt Sourdough
Sourdough, Spelt and Buckwheat
Naturis Organic Breads
Spelt Sourdough (Wholemeal, Chia, and Sunflower Seeds)
Spelt Sourdough, (Wholemeal)
The Pocket Storehouse
Authentic Wheat Sourdough
5 Seed Sourdough Organic
Spelt Sourdough, Organic
Pure Life Bakery
Organic Sprouted Khorasan
Organic Sprouted Spelt
Organic Sprouted Sunflower Sourdough
Schar
Gluten Free Baguette
Gluten Free Brown Ciabatta Rolls
Gluten Free Multigrain Ciabatta Rolls
Gluten Free Seeded Ciabatta Rolls
Gluten Free White Ciabatta Rolls
Gluten Free Deli Style Seeded Bread
Gluten Free Deli Style Sourdough
Gluten Free Hamburger Rolls
Gluten Free Panini Rolls
Gluten Free Wholesome Seeded Loaf
Gluten Free Wholesome Vitality Loaf
Gluten Free Wholesome White Loa
Photo by Wesual Click on Unsplash