Plant-based diets are gaining in popularity and the food industry is rising to meet this need. A vegan diet is one that excludes all animal products including meat, dairy, eggs, and seafood. Though some food products may look vegan at first glance, they may still contain certain food additives and stabilizers that are derived from animal sources. Use your Fig App to help you identify which food products are truly vegan! You will see there is no shortage of vegan snacks to choose from.
Of course, whole foods such as vegetables, fruit, and whole grains are naturally vegan and should make up the majority of one's diet, but most people need to supplement with pre-made foods and snacks, too. So if you're looking for a vegan sweet treat or something crunchy and salty for your on-the-go lifestyle, we've got you covered in this post.
Crunchy Vegan Snacks
The snacks below are great when you crave something crunchy or salty. Food manufacturers are getting very creative in their use of plant-based ingredients and many of these snacks contain a decent amount of protein and fiber.
Bada Bean Bada Boom: these are made from broad beans and there are a variety of flavors, from Sea Salt to Nacho Cheeze to Sweet Cinnamon. Their products are also soy-free, gluten-free, and non-GMO.
Biena Chickpea Snacks, Sea Salt: with just 3 ingredients (chickpeas, sunflower oil and salt), you don't have to guess if this product is vegan. These are simple, healthy vegan snacks that can be eaten on their own or added to soups or salads for an extra crunch.
Emerald Nuts 100 calorie Pack: Nuts are a natural, high fiber, and protein-filled vegan snack. These pre-portioned packs come in multiple varieties and flavors of almonds, walnuts, and cashews. They are also so easy to grab when you're on the go!
Enjoy Life Lentil Chips: Enjoy Life products are awesome for people with food allergies. Their products are gluten-free and also free from the major 14 allergens, including nuts, dairy, and soy. Many of them are vegan to boot, including these lentil chips.
Pigout Pigless Pork Rinds: a healthier alternative to the real deal, which are usually fried in lard. Plus, they contain 25 grams of protein per bag!
Popcorners Sea Salt Flavor: a simple, crunchy, and flavorful snack.
Louisville Vegan Jerky: made from textured soy protein and comes in multiple flavors including Maple Bacon, Buffalo Dill, Smoked Black Pepper, Perfect Pepperoni, and Smoky Carolina BBQ.
World Peas Peatos Fiery Hot Crunchy Curls: I've heard these compared to traditional cheetos, except they are vegan, spicy and healthier! This company's logo is 'junk food without the junk" so you can satisfy that craving for a comfort snack without the artificial colors and excess fat. However, it is important to note that most of the other snacks from this company do contain dairy and would not be appropriate for a vegan diet.
Vegan Protein Powders and Bars
Getting adequate protein takes a little more effort on a vegan diet than on an omnivorous diet. Some vegans choose to supplement with protein powders or bars to help meet their protein needs. Fortunately, there are plenty of vegan protein powders and snacks on the market and below are just a few to choose from!
Nutribiotic Rice Protein Powder
Truvani Plant Based Protein Powder
Nutiva Organic Raw Hemp Seed Protein Powder
Go Macro Protein Bars
Vega Protein Bars
Enjoy Life's Grab and Go Protein Bites
Siren Dark Chocolate Protein Brownie Bites
Vegan Chocolate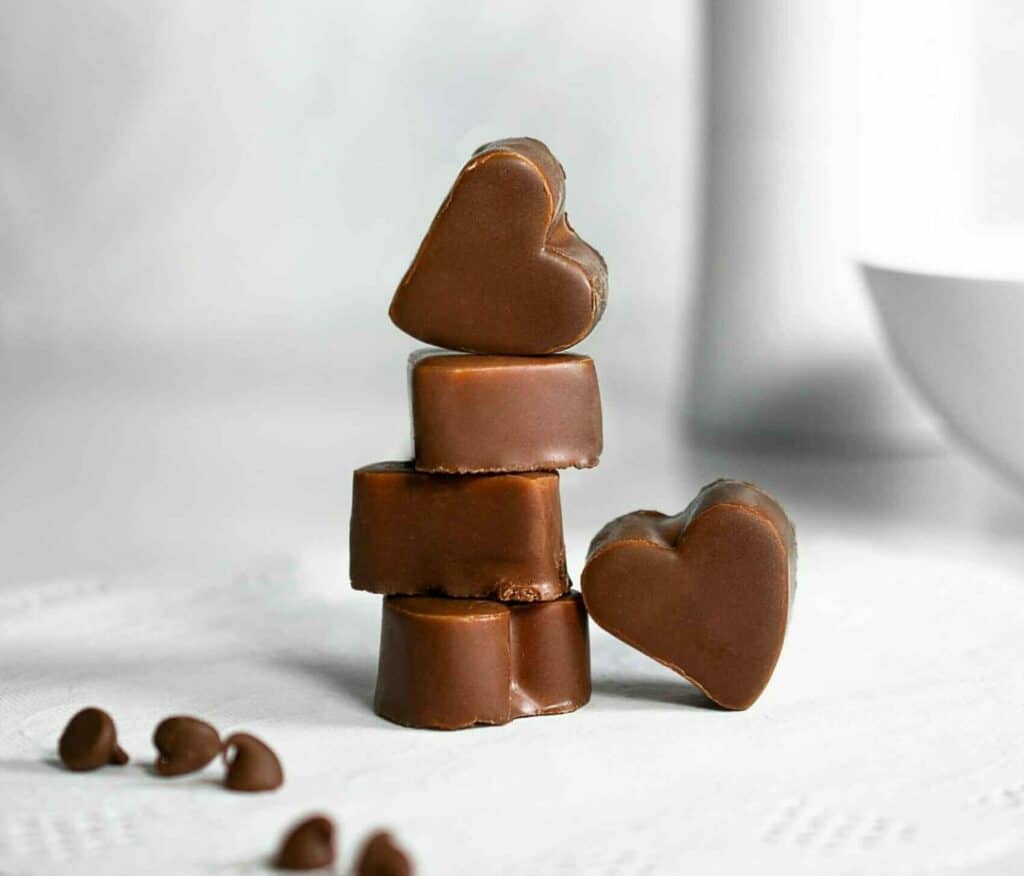 Let's face it, chocolate is a basic human need. Dark chocolate is also a good source of fiber and antioxidants and makes for a great treat in moderation. Thankfully, you can have chocolate on a vegan diet!
Hu has multiple chocolates that are vegan and made with simple ingredients.
Justin's Dark Chocolate Peanut Butter Cups are easy to find, carried in most stores, and they are delicious!
No Whey Foods Vegan Pea "Not" Butter Cups are a vegan and allergen friendly alternative to Reese's Peanut Butter Cups.
Enjoy Life Dark Chocolate Bar contains only 3 ingredients (unsweetened chocolate, cane sugar, and cocoa butter).
Endangered Species has multiple varieties of vegan chocolate bars including interesting flavor profiles like dark chocolate with blackberry sage or lemon poppy seed. They also have a dark chocolate with 88% cocoa for those who like a more intense chocolate flavor.
Vegan Ice Cream
With the summer upon us, many of us look to cool off with some refreshing ice cream. Vegans don't have to miss out, because non-dairy ice creams are easy to find in just about any grocery store now and come in so many flavors! Here are just a few popular ones:
Ben and Jerry's non-dairy ice cream
Daiya Non-Dairy Frozen Dessert Bars
Summary
Hopefully this post will give you some new ideas for vegan snacks and treats. Be sure to use your Fig app to help you easily find vegan snacks that work for your preferences. If you have other dietary restrictions on top of being vegan, this is where FIG can really make your life much easier by finding those products for you, so you don't have to spend hours checking labels at the grocery store! 
What are some of your favorite vegan snacks? Let us know in the comments below!